or, guess who found the verb in Cicero?
PM Boris Johnson has been caught red-handed injecting cillit bang into the veins of orphans being held down by Barry Scott whilst cackling about austerity. "You pleb! You pleb!" he shouts "Amo amas amat! Amo amas amat!" he cackled privilegely "This is Classics! This is Classics!". Hand in hand, Johnson and Scott skip away from the scene, leaving crumpled up pages torn from first edition Kennedy's. Or so one might think, given the furor tuiteraticus.
We have covered this topic before and for the most part, the post still stands the test of time. But how often does one see #Cicero trending on twitter?!?! We must commemorate this.
When discussing the ongoing lockdown Johnson was alleged to have quoted Cicero's De Legibus (3.3.8): salus populi suprema lex esto or "let the health of the people be the supreme law". Before we jump into the quote, it is worth hovering briefly over the wider work itself. The lack of De Legibus in complete MSS forms must surely be one of the severe blows to our understanding of Roman philosophical and political thought. Laugh at Cicero all you want (his poetry practically begs it), but he held the highest office at Rome and was a major player. Though the work was clearly influential, little direct survives beyond a bit of the third book. The work is, like that of his predecessor Plato and epigone Gemistos Plethon, concerns the legal system of a hypothetical state. Hy-po-thet-ic-al.
Now, back to the tag. You would think Johnson has either mistranslated or said something contemptible. But what that might be, is beyond me. Putting the health of the people first at a time of extreme economic contraction, against the wishes of big corporate interests on one side and protesters on the other, seems…admirable?
Ah, ok. Leaving aside the politeness of excusing yourself in a tweet whilst damning someone for an equally short – or shorter soundbite – (the moral equivalent of fucking someone in the arse whilst giving yourself a reach around), let's jump in on this. A lot of the aforementioned furor tuiteraticus has concentrated on the ambivalence of salus.
Yes, it is quite true that Cicero is speaking in a political, rather than medical, context and that salus has a wide range of meanings. So what? So do many words in most languages. The word has many meanings; its most general one is health. As when Romans greeted one another (salve, amice), or would pray (cf one of the most antique prayers, the one to Mavors as recorded in Cato), or bless their children (…quod cum salute eius fiat). Roman aristocrats started their day with a salutatio from their amici (few could afford to call them clientes to their faces!). The Romans, following Hellenistic trends, even instituted a temple to Salus on the Quirinal and the Catholics would later latch on to this religious meaning (verba salutis). Perhaps, given the mad exigencies of fate this year, Mr Johnson should have gone with Plautus instead: ut consuevere, homines Salus frustratur et Fortuna, but that is beside the point.
The point is that you can see the obvious semantic framework. We do not need to go on and on. I am not going to do my usual sthick of talking about the PIE root and the cross-cultural meanings of the word in Greek and Sanskrit, because it is not a difficult lexeme. If I were working at the TLL and I got salus when my partner got numen or something, I would be very pissed off. It is on the GCSE Latin word list, FFS.
In fact, the entire phrase already has a history of being used as a tag with the unmarked sense of salus standing in for health and wholeness (its loose Germanic equivalent, btw), rather than the integrity of the body politic. A quick google tells me that it was used as the tag of the Dublin Medical Press and the Medical Circular all the way back in 1839. Fuck it, see this excellent tweet by Armand D'Angour: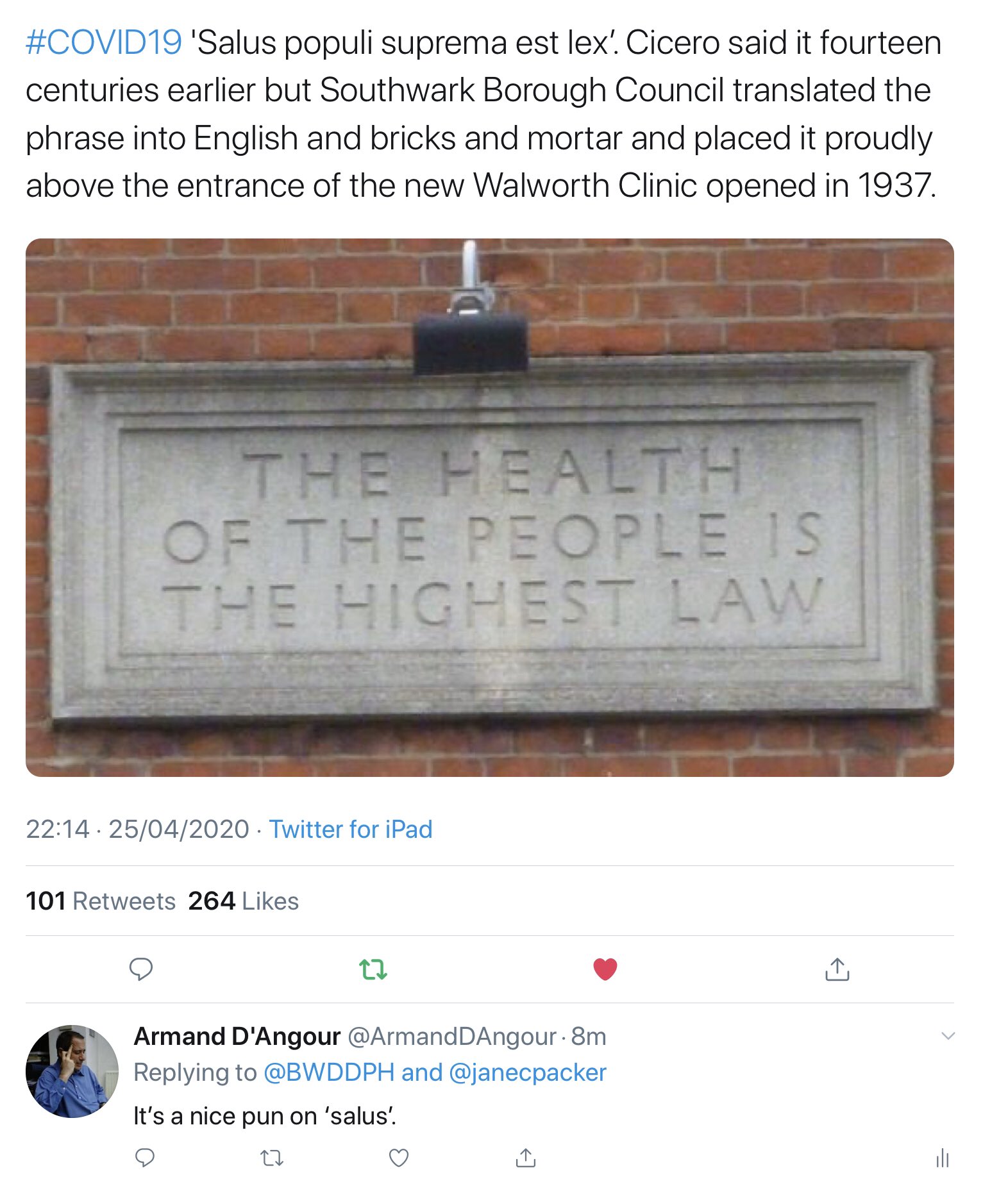 Indeed.
Actually spend enough time on #ClassicsTwitter and you'll quickly learn why D'Angour is simply maestro:
The fact is the tag is perfectly acceptable here. He is in good company. Buildings and medical journals aside, the quote has long been a mainstay of western philosophy. I had thought the tradition in the West had started with Rosseau, but apparently not. See this interesting thread. Either way the use of this line in this context is centuries old. Moreover, the reuse of lines is itself a little-known classical inheritance, a genre of poetry called cento.
Starting allegedly with one Hosidius Geta (who wrote yet another fucking Medea), poets in Latin and Greek started to re-use lines from the Classics (both Latin and Greek) in order to create completely new poems. Obviously, the original context was either thoroughly obviated or reemployed in clever, subtle, ways. The genre is little studied in English letters, and I daresay beyond the work of the Empress Eudokia, of little import nowadays. But, again, Johnson is in good company stretching all the way back to late antiquity.
Well asktchually!!
There must be some greater impetus to this behaviour than simple political disagreement. It is pathological. It is unseemly. Historian Tom Holland has, I think, struck gold with his explanation:
Academia, when it functions well, functions like a midwife. Aiding and abetting understanding, bringing new life to our inherited material. Men and women of previous generations exemplified this: Mortimer Wheeler and Gilbert Murray on the BBC, Betty Radice over at Penguin (again, the unsung hero of 20th century Classics). We have but little of this now, though I massively admire Mary Beard's fairness whenever these twitter spats come up.
Conversely when academia dysfunctions, it does so rather in the guise of a corrupt priesthood. With their weird shibboleths and incestuous cliques, their whosays over the whatsaids. We are seeing this now. It is not pretty, and beyond the confines of a small echo-chamber, it is just not flying. It stinks of the insecurity of little children upset that others are playing without them. Moreover, what exactly are these people trying to say? If a man can leave Eton and Oxford and not know very, very, basic Latin we as taxpayers have the right – the responsibility – to put every single lecturer in prison for fraud. We are a not a fucking serf class, to subsidise the lifestyles and frivolous, ineffectual, play of a "scholar" class. You utter cunts. If you want to disagree with the PM chaps, have the courage to do so on facts, not on picking nits of your own devising.
Is any of this correct? Is it fair? It all seems precisely the kind of important stuff we such castigate and push back over. Frankly, the current administration needs to be raked over the coals concerning their dealing with China, Huawei, and 5G contracts. But I digress.
I know I keep saying this but put yourself in the shoes of a 16-year-old making subject choices. Why, oh why, (especially in this economy) would you choose a subject that, besides being taught almost entirely by a negative nasty clique, seems to be completely unlearnable sans several years in graduate school and of apparently no relevance whatsoever? It is beyond madness. Even if you were not concerned about skills and employability, it would seem an insane endeavour. One, incidentally, you never see espoused by e.g Mathematicians or Engineers.
As an aside: people really, really, dislike universities right now. I do not think I have met a single person in the City that has anything nice to say about academics and current academic culture. There is serious dislike from the working class at what they see as immense privilege. With the coming economic contraction thanks to COVID-19, people are looking long and hard at the business models employed by these places – the over-bloated staff, the gluttonous senior salaries, tearing out all sense of community to appeal to international students… It would be smart to have the forbearance not to kick up a stink in the current climate. At the very least, it makes things difficult for the good men and women trying their best to conduct their research and teach upcoming generations in an equitable and agreeable manner. You shits.
Patient, long time, readers (all three of them) may be wondering at the header image. Why, after all, did I use that and not a photoshopped image of Boris Johnson as Barry Scott spraying a journalist or something? It is actually the 9/11 memorial, which at the time had its fair sure of naysayers too based on the Virgilian context (here is a wonderful summary). The Bishop of Rome, when not blaming bats (????) has his own share of Latin malapropisms (the brilliant Llewellyn Morgan has recently blogged on this, here). Which is a lesson in and of itself really, isn't it?
Johnson has more peccadilloes than I care list. For all that, he is an impassioned Classicist, one quite well versed in Greek and Latin, with a genuine love of his, no, of our subject.  As I said, this is just the latest in a string of hysterical overreactions and I would urge anyone interested to check my fuller treatment here.
As always, thanks for reading.